Sweeney's Swim School is Re-opening!
We are so excited to announce that we are re-opening for swimming lessons from Monday 22nd June.
Due to the restrictions in place we are having to change the way we operate. The current restrictions for Swimming pools are:
3 swimmers per lane

20 patrons per enclosed space

practice 1.5m social distancing
This obviously limits the number of students we can cater for when we reopen.

We feel the only fair way to do this is to have all students re-enroll for their class.

At this stage we will only be offering places to students that were enrolled for lessons when we closed on 23rd March.
How to Re-Enroll
Read the COVID-19 Policies and Procedures so you understand how classes will run from the 22nd June.
Click the link below to re-enroll.
Re-Enrollment Process
We will only be offering places to people who have submitted the form in the link below. Places will be offered on a first come first service basis. We are unable to re-enroll your child over the phone or via an email.

STUDENTS WILL NOT BE RE-ENROLLED UNLESS THE RE-ENROLLMENT FORM IS SUBMITTED

Once your form is submitted you will receive an email confirming your place in the lesson. If we are unable to offer you a place we will be in touch with other options.

COVID-19 Policies and Procedures
During Victorian Government Restrictions
Staff & Patron Health
If you're sick, stay at home: Upon entry, signage will ask patrons (and staff) to ensure they do not have any symptoms that may indicate an infection of COVID-19. A checklist includes the following:
cough

sore throat

runny nose

sneezing

loss of taste or sense of smell

elevated temperature

shortness of breath

unusual fatigue

unusual muscle aches and pains

diarrhoea
COVID Safe App: Signage to encourage all patrons and their caregivers to download the Australian Government's COVID tracing app to assist in tracing cases and notifying impacted individuals will be placed at entry points.

Reporting COVID-19 Procedures: If there is a case of COVID-19 reported at our premises we will be following all directives from our state health authority and complying with all cleaning and disinfecting procedures

Hygiene and cleanliness: We have increased our cleaning schedule to include
Hand sanitizer available upon entry and exit of our facility and on our reception desk

The pool water is continuously being disinfected by chlorine. The 24-hour filtration system also monitors the chlorination levels. The pool is also manually tested every 3-4 hours in line with the guidelines of safe pool operations.

We will have increased scheduled cleaning routines. During a class change over period all surfaces including and not limited to toilets, chairs, tables, reception, door handles, swim equipment and bench seats will be wiped with a disinfectant.

The facility will be completely cleaned each night using a disinfectant
Equipment Safety: Minimal equipment will be used during lessons and all equipment will be sanitized after use.
Tadpole Classes- Parents are encouraged to bring their own bubble float and small bath toy to each lesson.
Lesson Requirements
In order to offer lessons at this time there are a number of requirements we must follow.
These include:
Managing Social Distance Requirements: Social distancing requirements will be enforced. Signage and markers will be placed in reception areas and spectator seating areas, to guide patrons. Staff will monitor and actively enforce.

Minimized time at the venue: Swimmers and patrons must follow the guideline of 'get in, swim, get out', arriving at sessions on time and ready for activities. Bathrooms will be available; however, showers and change rooms will not be available to patrons. Patrons will need to change and shower at home.

Spectator Management: To abide by the limit of 20 people within the facility (the 20 does not include staff) we will need to implement the following
Tadpoles (parent & baby classes)- 1 carer per child can attend
Preschool Learn to Swim- 1 carer per child can attend
School aged children Learn to Swim-

Fish (shallow end of pool) Levels can have 1 carer per child attend and supervise
Octopus (deep end of pool swimming across) Shark (swimming full length of pool) & Squad Levels – we will be implementing a drop off and pick up system. Children will be asked to be dropped off, there name marked on a roll and will be supervised socially distanced in our squash court area. A staff member will then walk them to their class. After the class the child will be asked to dry off and will be walked to foyer to be collected by the parent/carer. We will not allow any child to leave without a parent/carer.
Change Over Period: Due to the restrictions on number of patrons within the facility we will be implementing a 10min change over period between each session. This time will allow us to safety have all swimmers exit the water, towel off and leave the facility so we can clean all the appropriate areas before the next session can come in.

Lesson Ratio: With the current restrictions we are only able to have 3 students per lane. This means that the Tadpole and Learn to Swim Classes will be 1:3 and the pool will have lane ropes to allow this. Squad will have a limit of 12 students to abide by the 3 students per lane and the pool will have lane ropes to allow this.

Lesson Times: During this initial restriction period we will be implementing the following
We will confirm lesson times once enrollments are received and allocated. It is our intention to keep people as close as possible to their previous lesson time.

Payments & Make up Lessons
Payment: Classes will remain unchanged for all sessions.

Prepaid Classes: If customers had any prepaid lessons prior to the shutdown we will be crediting these to classes once we reopen.
We are encouraging patrons to prepay for lessons (a month at a time) during the restriction time if they wish to minimize contact at reception.

Missed Lessons prior to shut down: If enrolled students had any outstanding amounts owing prior to the shutdown for missed lessons we will be charging for these. We will also be offering make up lessons for these due to uncertain nature of the time before we shut down.

Make Up Lessons: While lessons are run at a restrictive level we will be unable to offer make up classes. Any accumulated make up lessons will be held in credit for when restrictions lift.
During this time classes can be cancelled at any time and a make-up lesson will be offered.

No Show: Any no shows will be charged for. If students do not show for 2 consecutive weeks, we will attempt to contact you. If we have no response the student will be withdrawn from the class.

Staff Training: As we are initially offering a smaller number of classes the additional staff will be used in other areas to assist with class supervision, ushering students and cleaning.
All staff have completed the Australian Government Department of Health Infection Control Training- Covid-19 course and qualification.
We will be testing all staff for temperature and fever at the start of each shift. We want to make sure they are as safe and healthy as possible to teach your children.
Staff have also been retrained and are encouraged to teach at an appropriate distance that does not comprise the safety of their students and themselves.
Exclusive Sweeney's Swim School Discount on Swim Parkas
To assist with the 'Get in, Swim, Get Out' we have teamed up with Great Aussie Swim Parkas! These are fantastic products and they are offer our customers a 15% discount.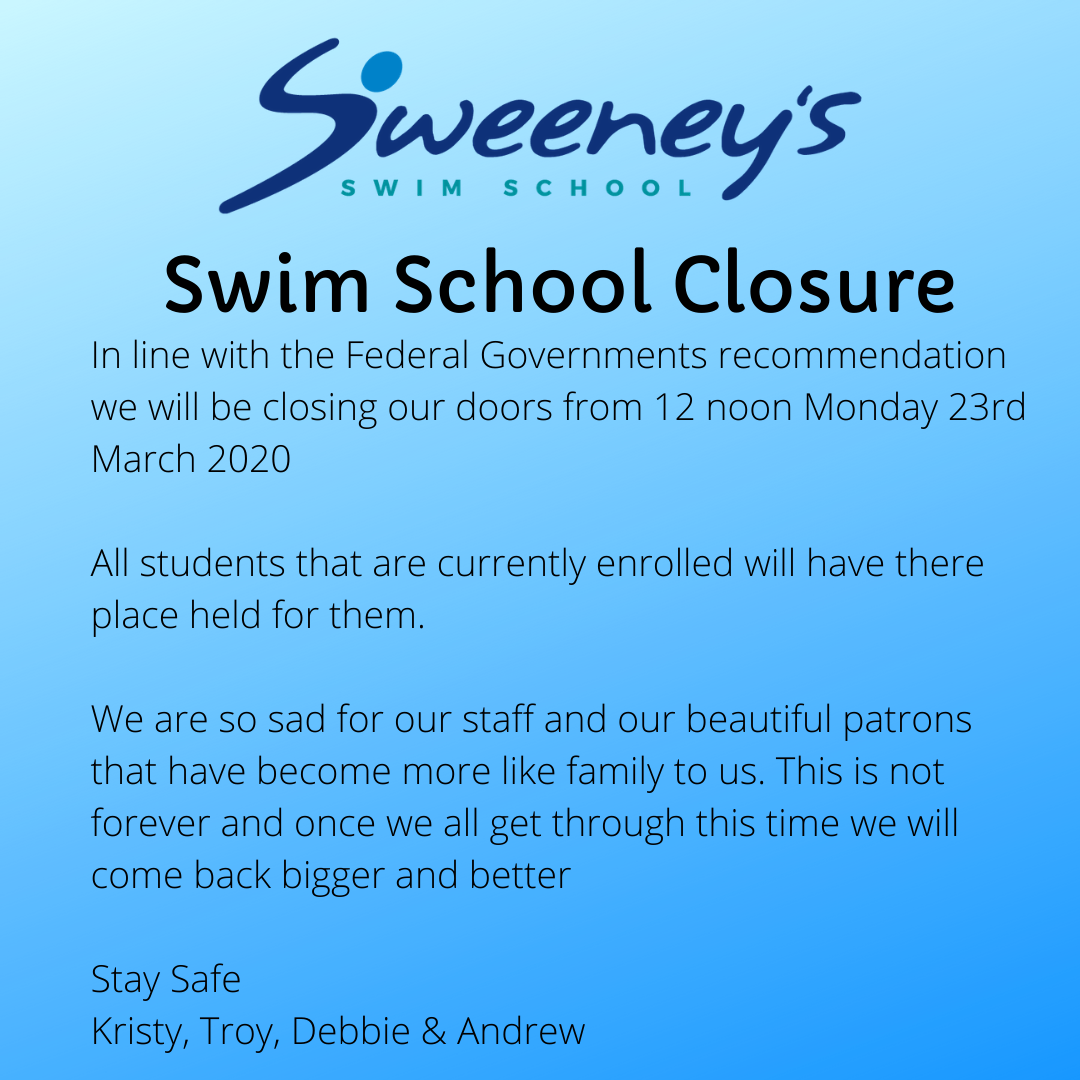 ---
School Holiday Intensive Program
As term 1 comes to an end a great way to give the kids a kick start for term 2 is to enroll in our School Holiday Intensive Swimming Program!!
The course kicks off on the Monday 9th April and runs until the Thursday 12th April from 11.00am - 11.45am.
The cost of the program is $65.00.
Bookings are essential.
To book please call the centre on (03) 9398 1150 or email us at admin@sweeneysswimschool.com.au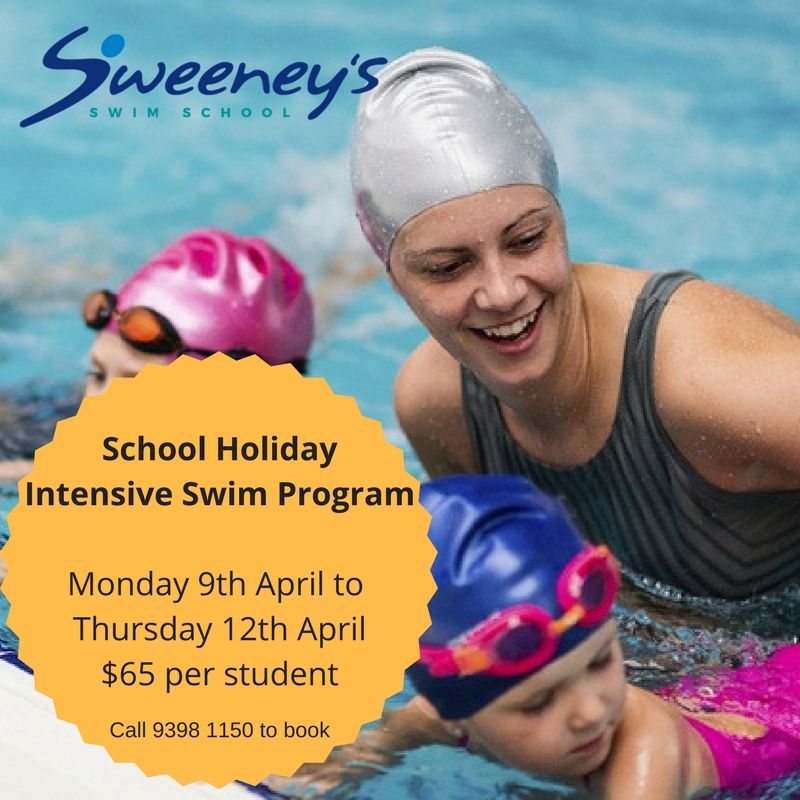 ---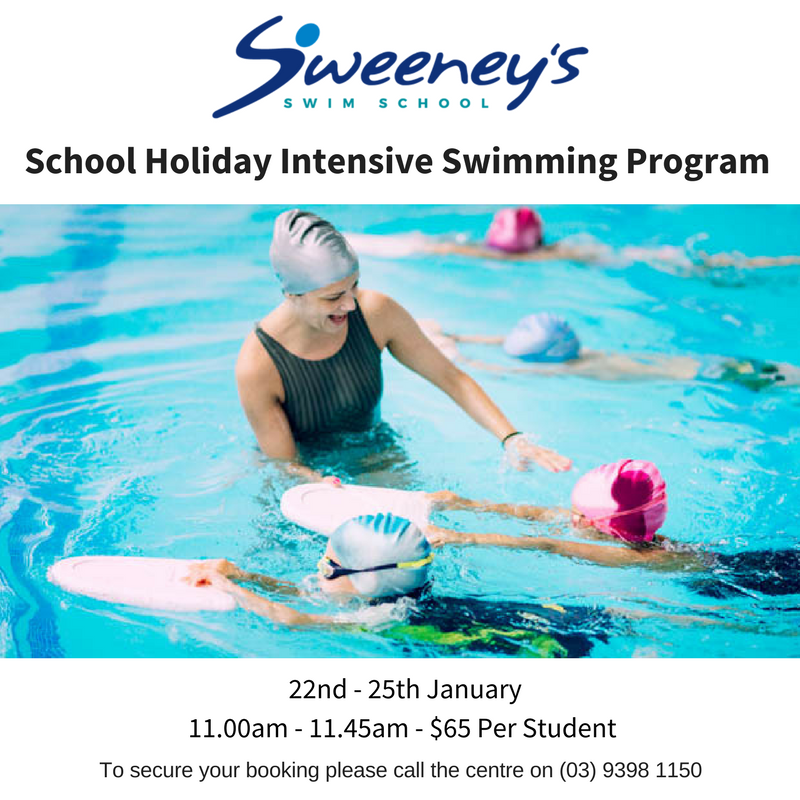 ---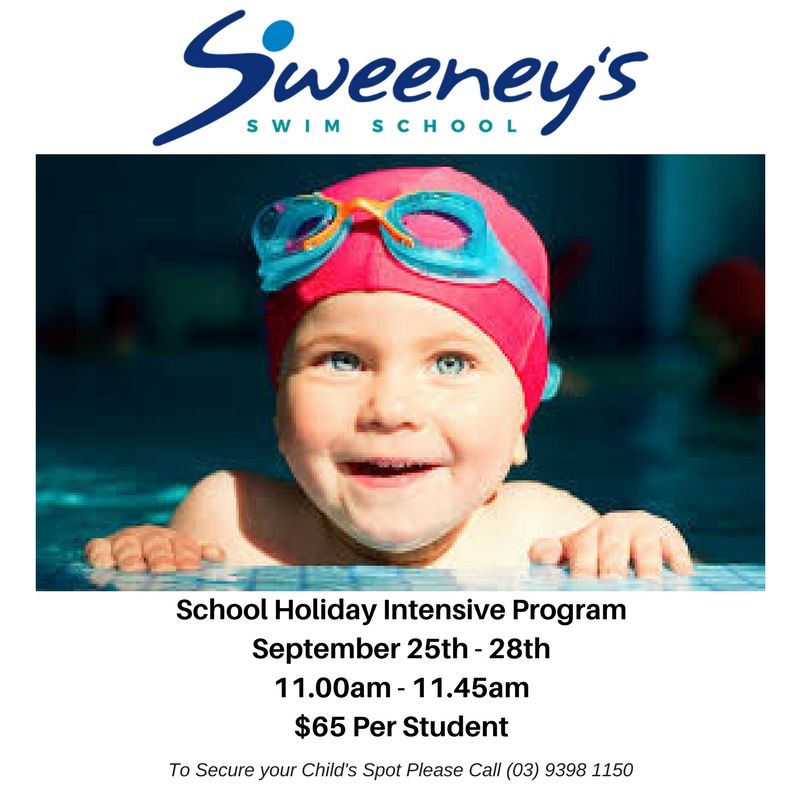 School Holiday Intensive Program
We are excited to once again run our School Holiday Intensvie Swimming Program.
An intensive program is a great way to kick start swimming lessons for your child or assist current swimmers with their progression.
The program will run during the first week of the school holidays (September 25th through to September 28th) daily from 11.00am - 11.45am.
The cost of the program is $65.00. Note that bookings are essential.
To book please call the centre on
(03) 9398 1150
---